BMW Lease Returns in Long Beach!


Our Lease Return Department is open:
Monday-Friday 9:00am-9:00pm
Saturday 9:00am-7:00pm
Sunday 10:00am-6:00pm

Regardless of where you originally leased your BMW, you are still eligible to take advantage of our fantastic offers and turn-in your BMW here at Long Beach BMW.
Even if you didn't originate your lease with us, we are happy to have you return it here so you can take advantage of our savings on your next new BMW!
Leasing can be the most financially advantageous way of driving a BMW. Perhaps that's why more than half of BMW drivers lease. We are committed to providing the most competitive leasing programs, so you can drive a larger, more powerful, better-equipped BMW. Leasing does not require the same cash commitment; you only pay for the value of the vehicle you use during its lease. And, at the end of lease term, you have the flexibility to turn in your BMW for another, re-lease for an additional term, buy at set agreement price, or turn in and walk away. Leasing with BMW Financial Services adds the security of keeping it all under one roof. From test drive to lease end, the BMW family meets all your automotive needs.

Personalize
Why not personalize your lease to fit your calendar, your lifestyle, and the way you drive?

GAP Protection
The benefits of having a lease with us extend far beyond just saving money, with the Ultimate Lease comes a peace of mind at a time of total loss.

Payment Options
Our financial products offer exceptionally convenient payment options for your BMW.
Is the lease on your BMW almost expired?  Here at Long Beach BMW, we are delighted to help you with every aspect of the lease-end process and we strive to make it as easy as possible.  No matter the dealership you originally leased through, we can assist since we are an authorized BMW lease return facility. 
To begin, one of our Client Advisors will lead you through the process while providing recommendations to ensure that your lease-end decision is a smart one.
For us to be the most effective, we recommend contacting our dealership 90 days prior to your BMW lease end date.  We will review all options available to you including purchasing your existing BMW lease, leasing another BMW and even if your plans do not include owning or leasing another BMW.   
Q: Should I have a pre-inspection completed prior to my lease maturing?
A: Yes, a pre-inspection will provide an itemized list of excess wear and use charges. This information will help you determine which repairs are necessary, if any, and what improvements should be made before the lease ends.
Q: Do I have to return my BMW to the dealer that I originally leased from?                                        

 A: No, you may return your lease to BMW of Nashville.

Q: What do I need to bring when I return my BMW?
A: Both sets of keys, books (navigation disk and cargo cover if applicable).
Q: Is it possible to get a new BMW and terminate my current lease early?
A: Yes! Many times there are other programs available. Our Client Advisor will provide all current program details.
Q: Will I be able to certify my current BMW and purchase it?
A: Yes, if your BMW qualifies for the BMW Certified Pre-Owned process, then BMW of Nashville will certify your BMW and provide the paperwork for purchase.
Q: Are there benefits to returning my current BMW and leasing a new BMW?
A: Yes, there are owner loyalty programs available! Our Client Advisor will provide you with more current program details.
You have several options available;
1) Trade your vehicle in on a new vehicle lease or purchase.
2) Buy your existing lease.
3) Turning it back in to BMW.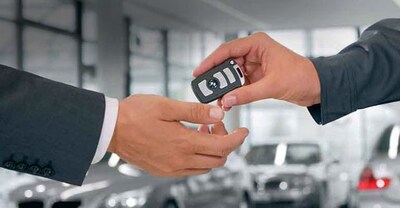 Email our contacts to schedule your appointment today!  We look forward to working with you.  Pre-lease maturity inspections are performed during normal business hours, Monday - Sunday at Long Beach BMW.  Thank you for being a part of the BMW family!